GLEC ChinaResult Announcement for Global GLEC Conference 2021
Dear participants and/or instructors,
Warmest greetings from Hope to the Future Association, a civil society organization representative associated with the UN Department of Global Communications.
First of all, it was our greatest pleasure to host the first Global GLEC Conference with all the winners from global rounds, collecting about 80 students from 7 different countries including the Republic of Korea, China, Vietnam, United Arab Emirates, the Philippines, etc. We hereby would like to greatly announce that we have successfully completed the event, and would like to thank you to all those who have taken any time and effort from 11 March to 13 March 2022.
Although the ongoing Covid-19 pandemic has made a physical conference impossible, we are happy that we could overcome and finally gather as a community under the greatest theme of 'UN and New Challenges' as we deal with this educational environment. We hope this conference could be an opportunity and meaningful activity for you to work together to achieve common goals and interests as global citizens. It has been an intensive three days, and we hope they were productive, fruitful, and wonderful.
The Global GLEC Conference 2021 was more than a place for discussion, but a forum where you could come up with creative solutions on a given agenda for a common goal regardless of age and nationalities.

Day 1 (11 March 2022)
The Global GLEC Conference 2021 made a grand start with the opening ceremony by Jin-Hoan Choung, the current President and Head Director of Hope to the Future Association, followed by the program orientation by Hannah Hyeonkyung Ha, the GLEC Secretary-General, and the live Virtual UN Tour by UN Guided Tours Team in New York.
For the Academic Debate, all participants were divided into three groups based on their topic preferences and prepared for the group debate planned on Day 2: Education Inequality and Covid-19, Cop26 and Climate Change, Disarmament and Peace.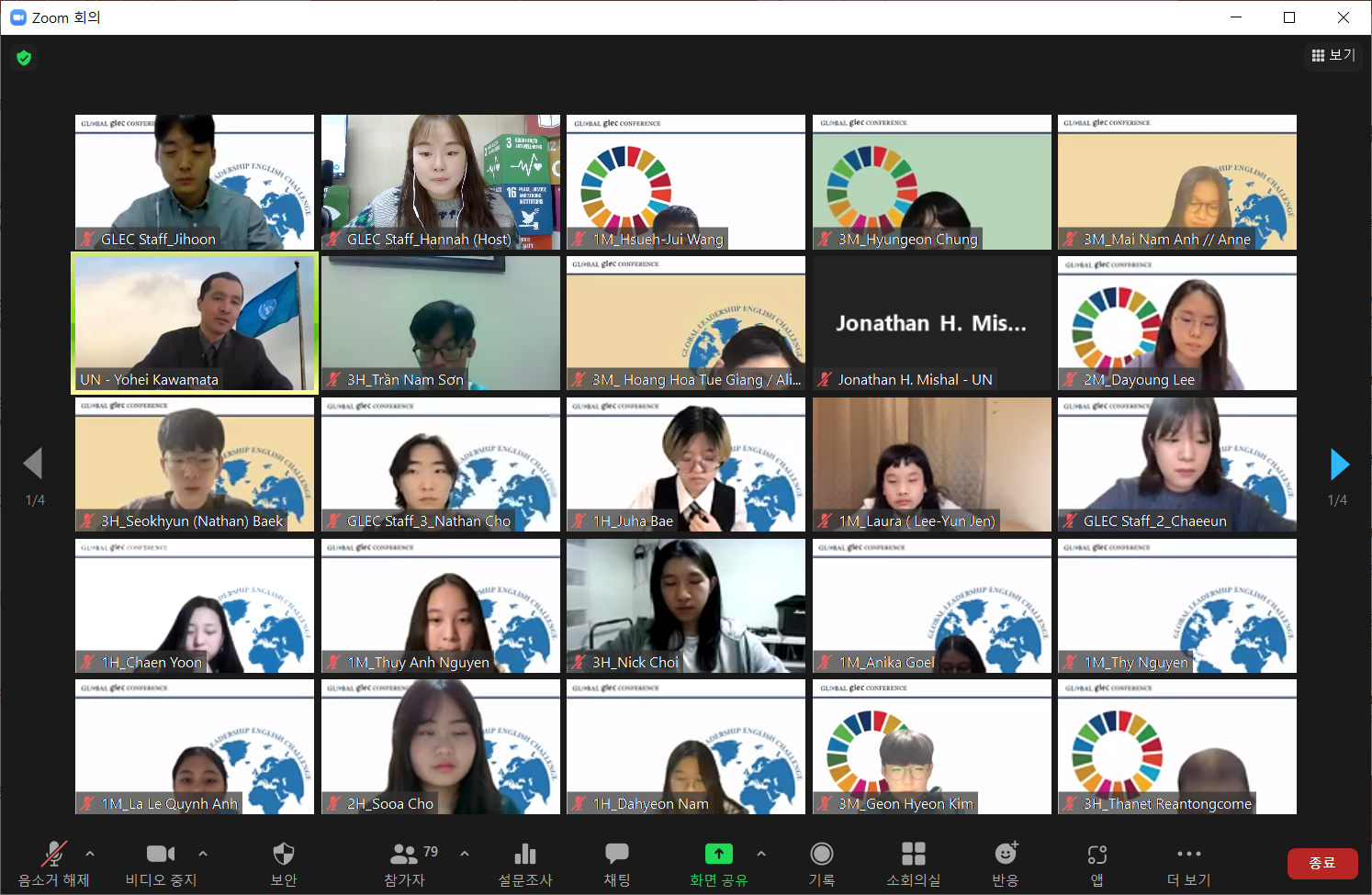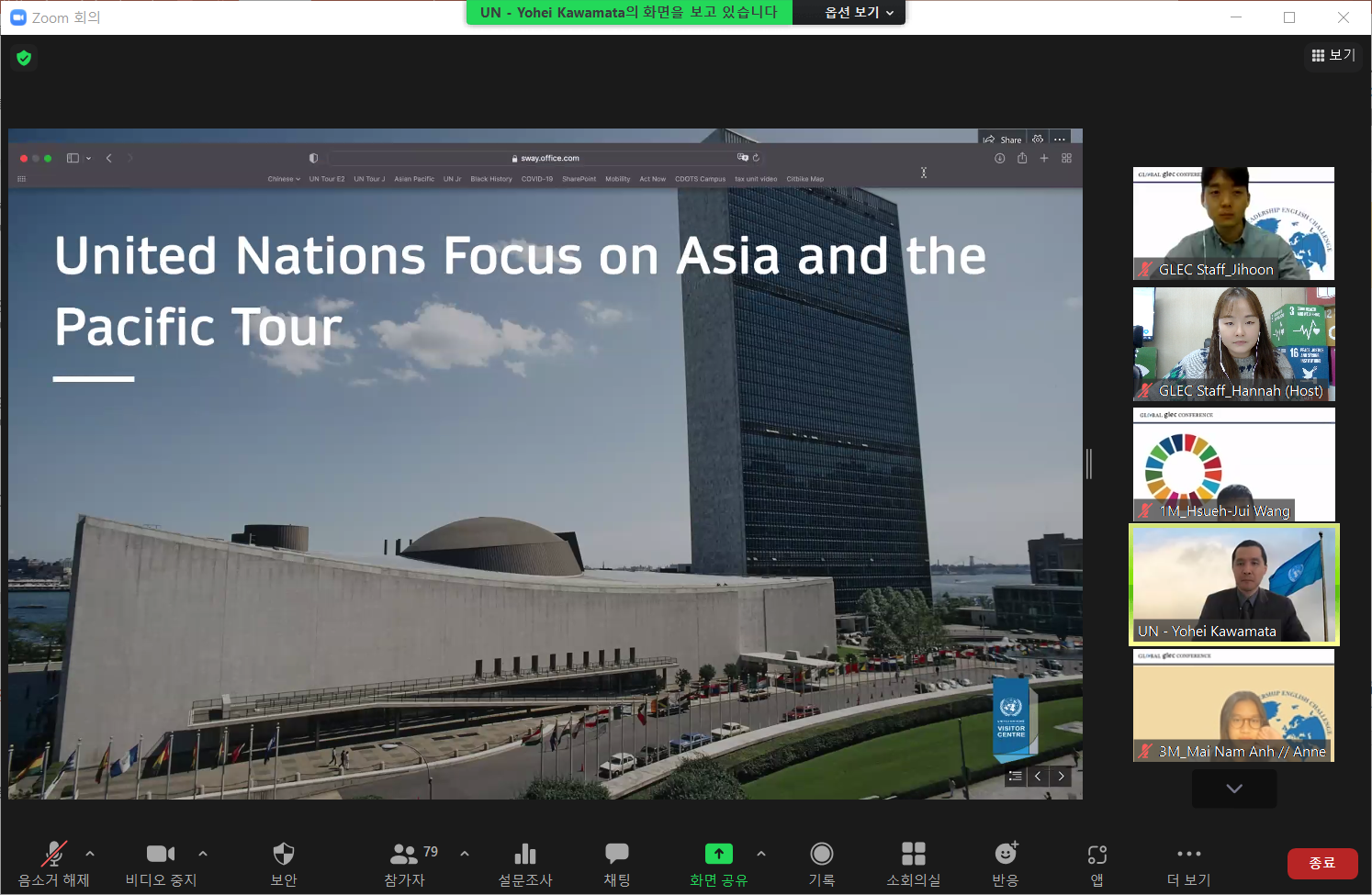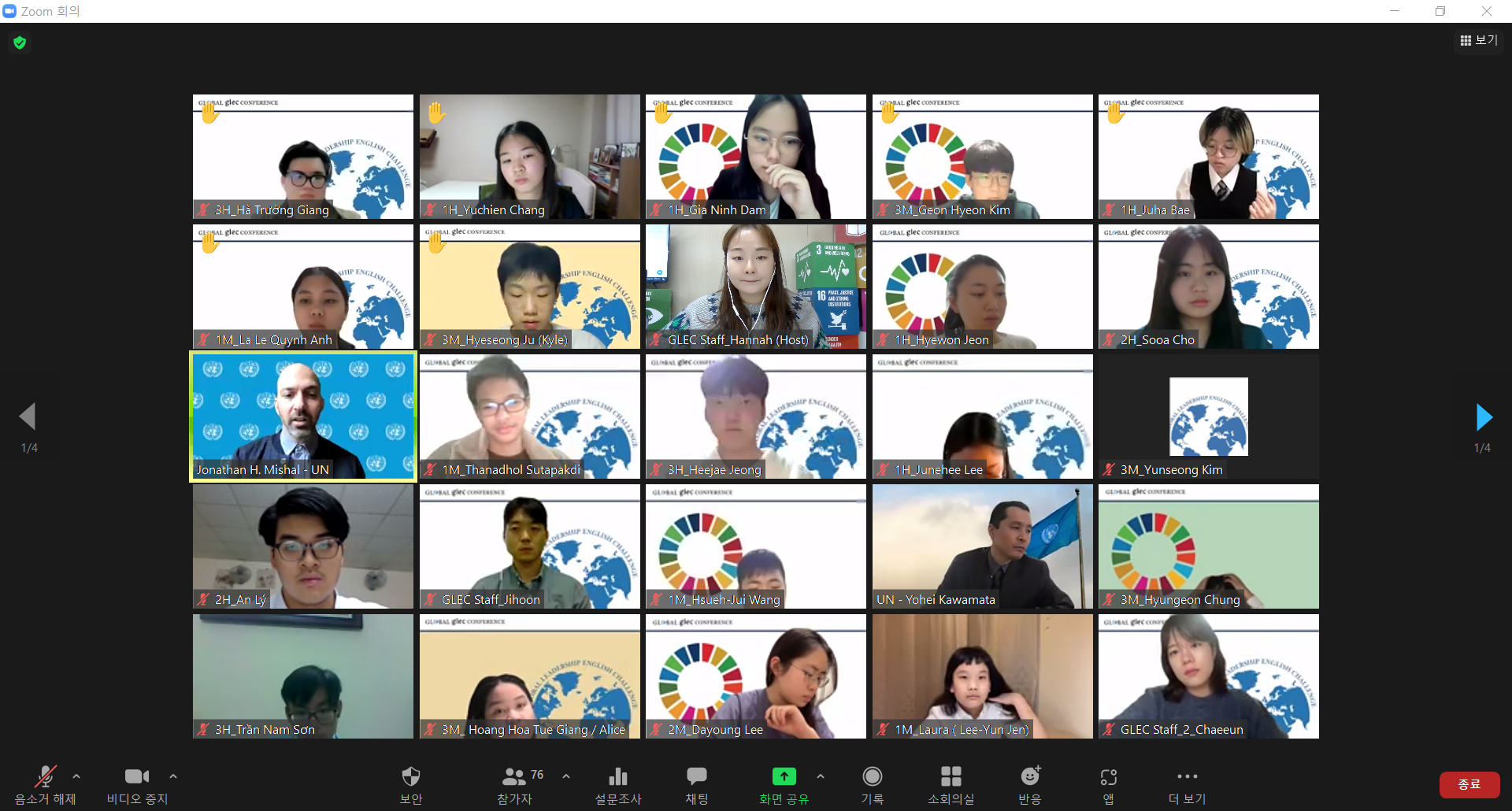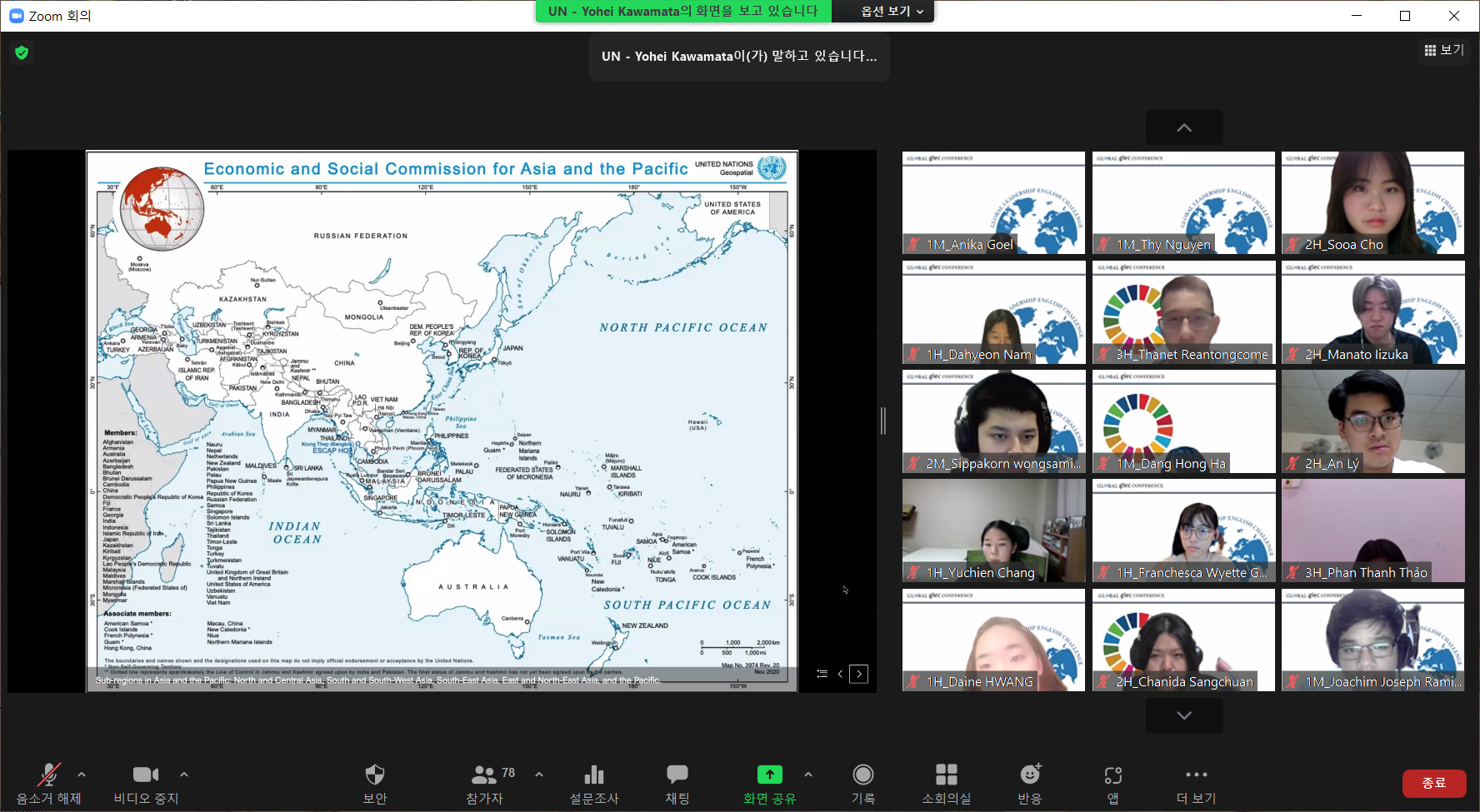 Day 2 (12 March 2022)
Day 2 marked its start with a live UN Briefing by Dr. Abraham Joseph, who had served notably with the UN Department of Economic and Social Affairs. The briefing covered the new challenges in the international society based on the works of the United Nations during the past and current environment.
All participants, based on Day 1's debate preparations, have actively participated in the Academic Debate on three topics, assigning themselves either to Affirmative or to Negative. Two sides for each topic spoke for and against the given topic (listed below) within the allocated time, developing their ideas with logic, working examples, statistics, and quotes to support themselves.
Debate topic for Education Inequality and Covid-19

Can advanced technology become the key to overcome educational disparity during Covid-19?
Debate topic for Cop26 and Climate Change

Is carbon taxation the most efficient way to advance decarbonization efforts?
Debate topic for Disarmament and Peace

Do we need to be armed for national security?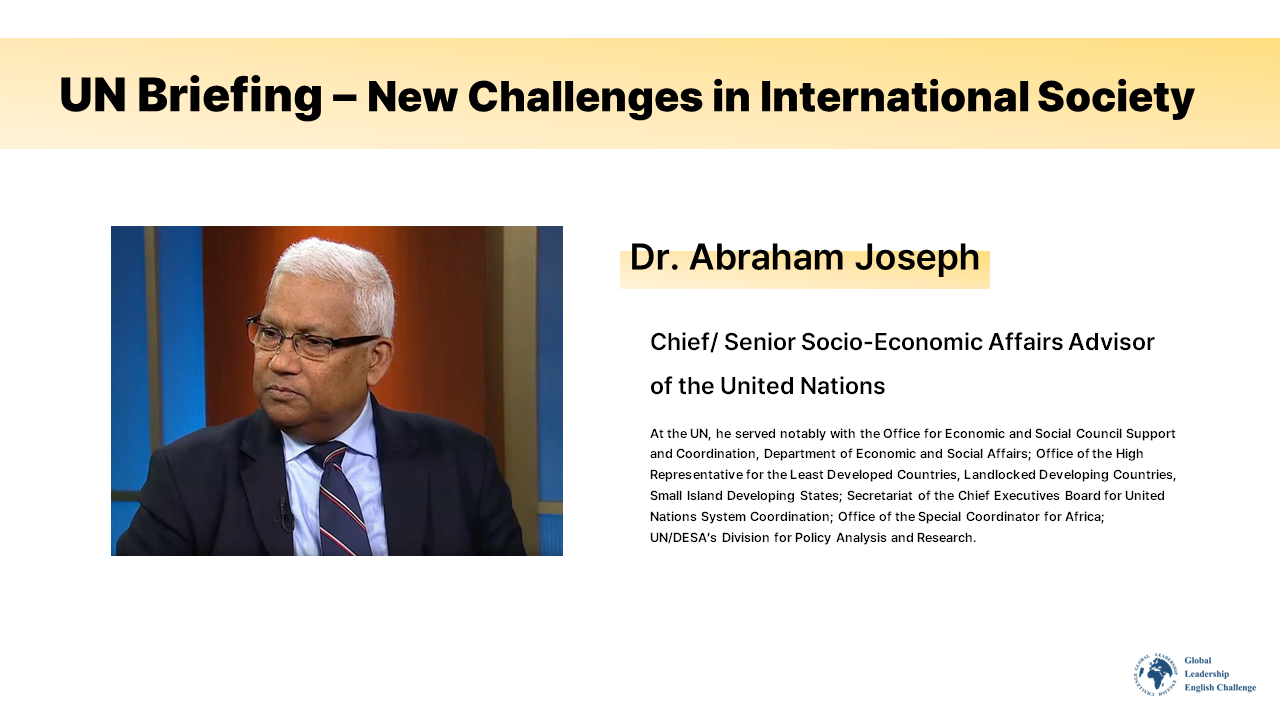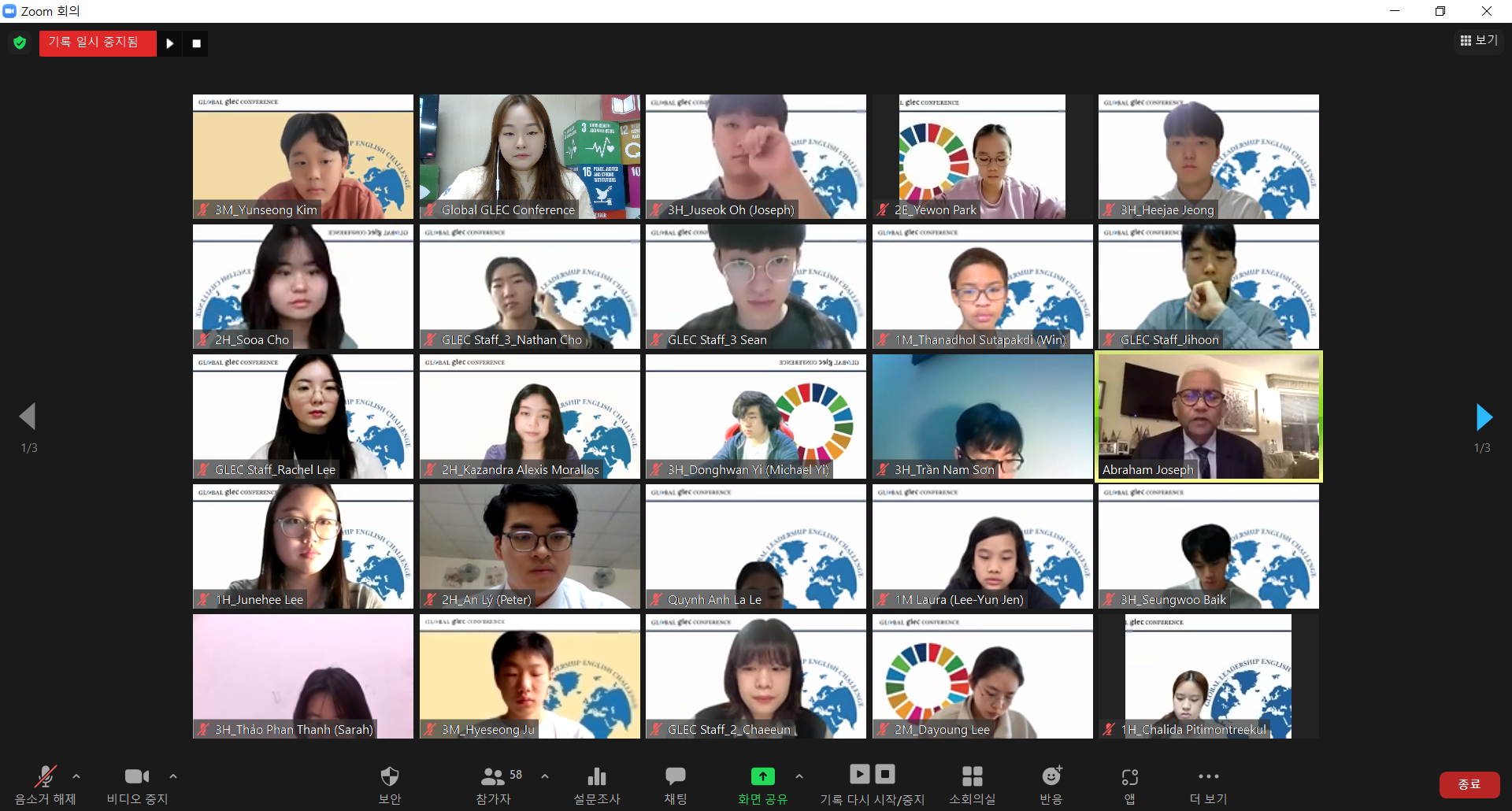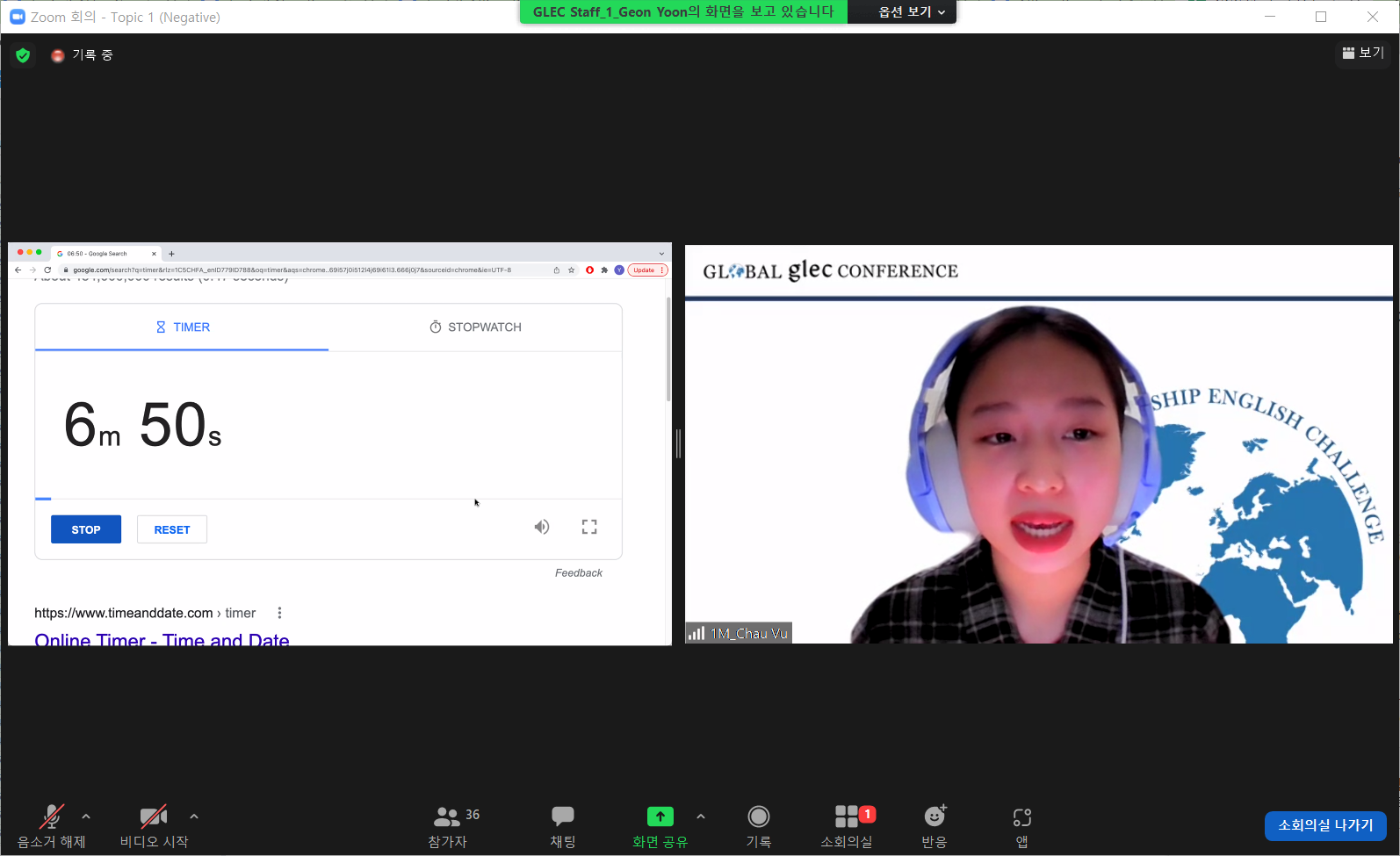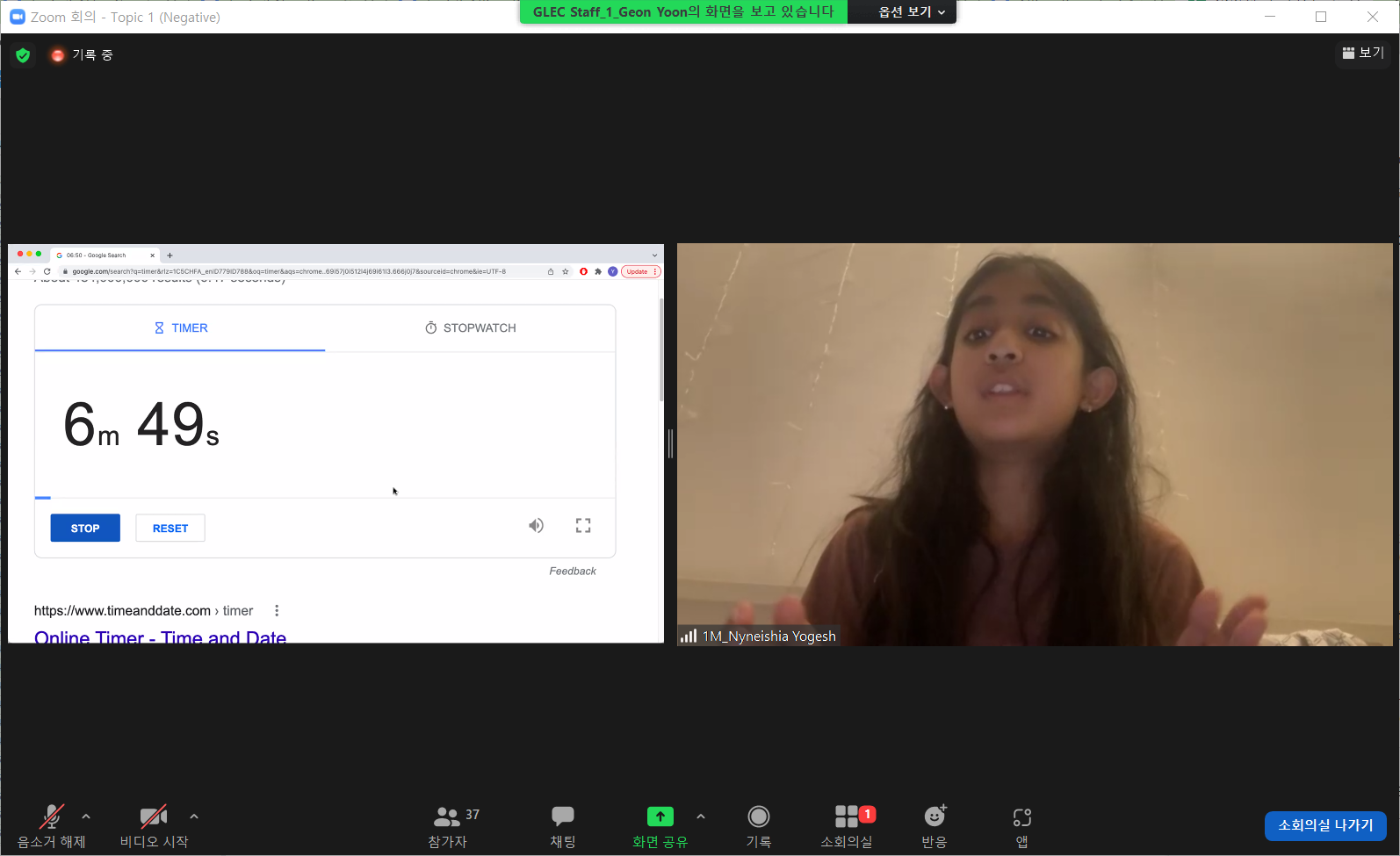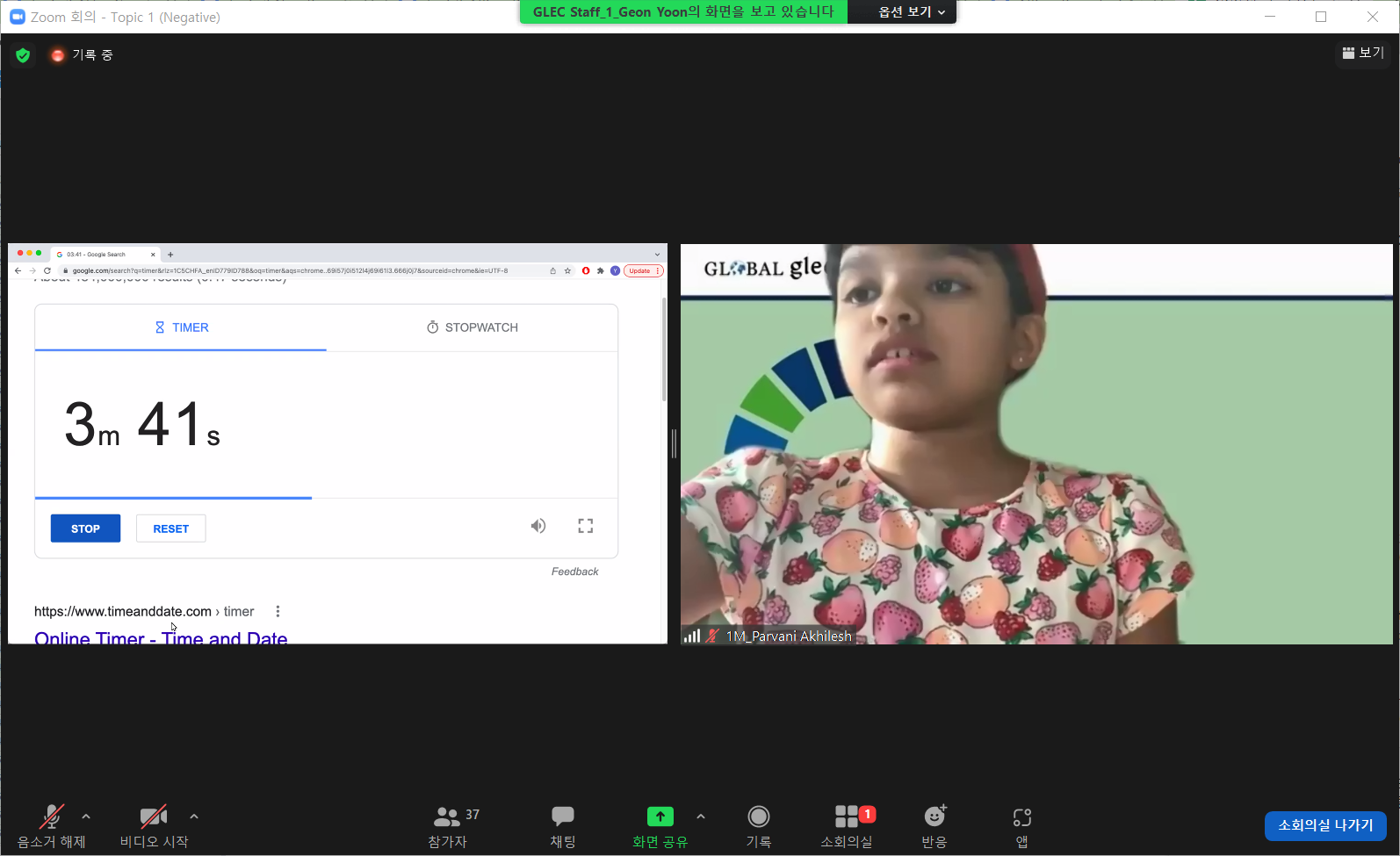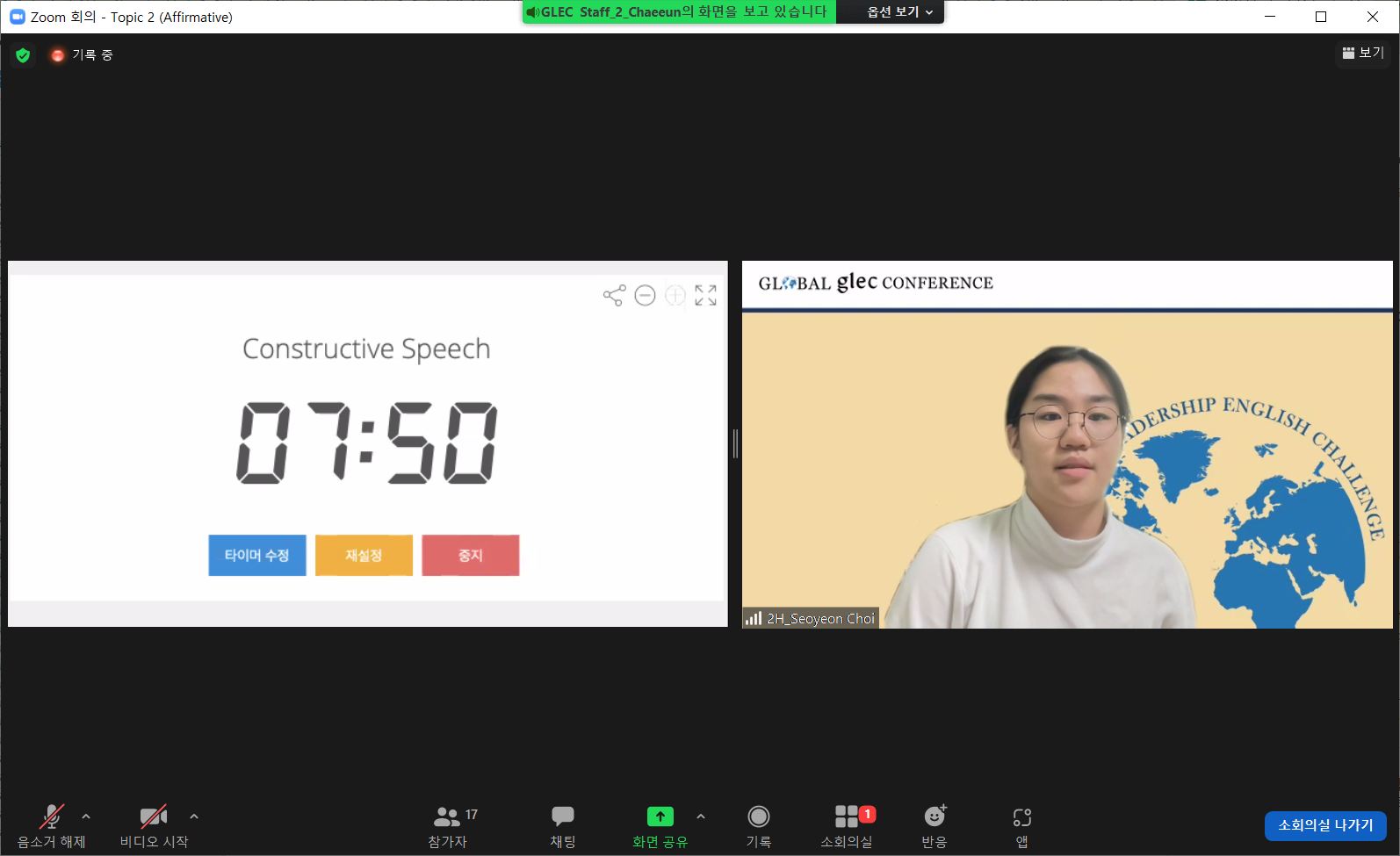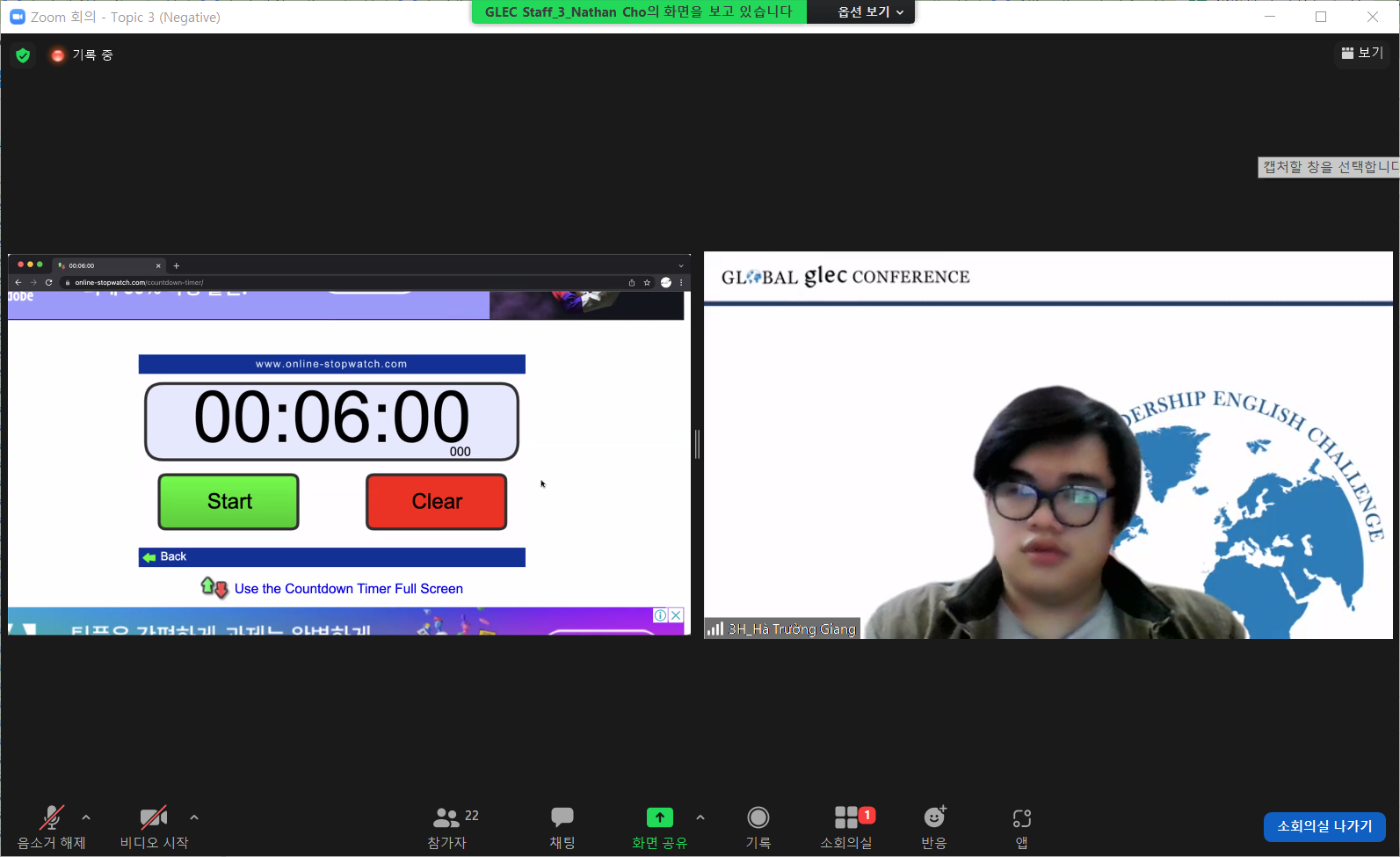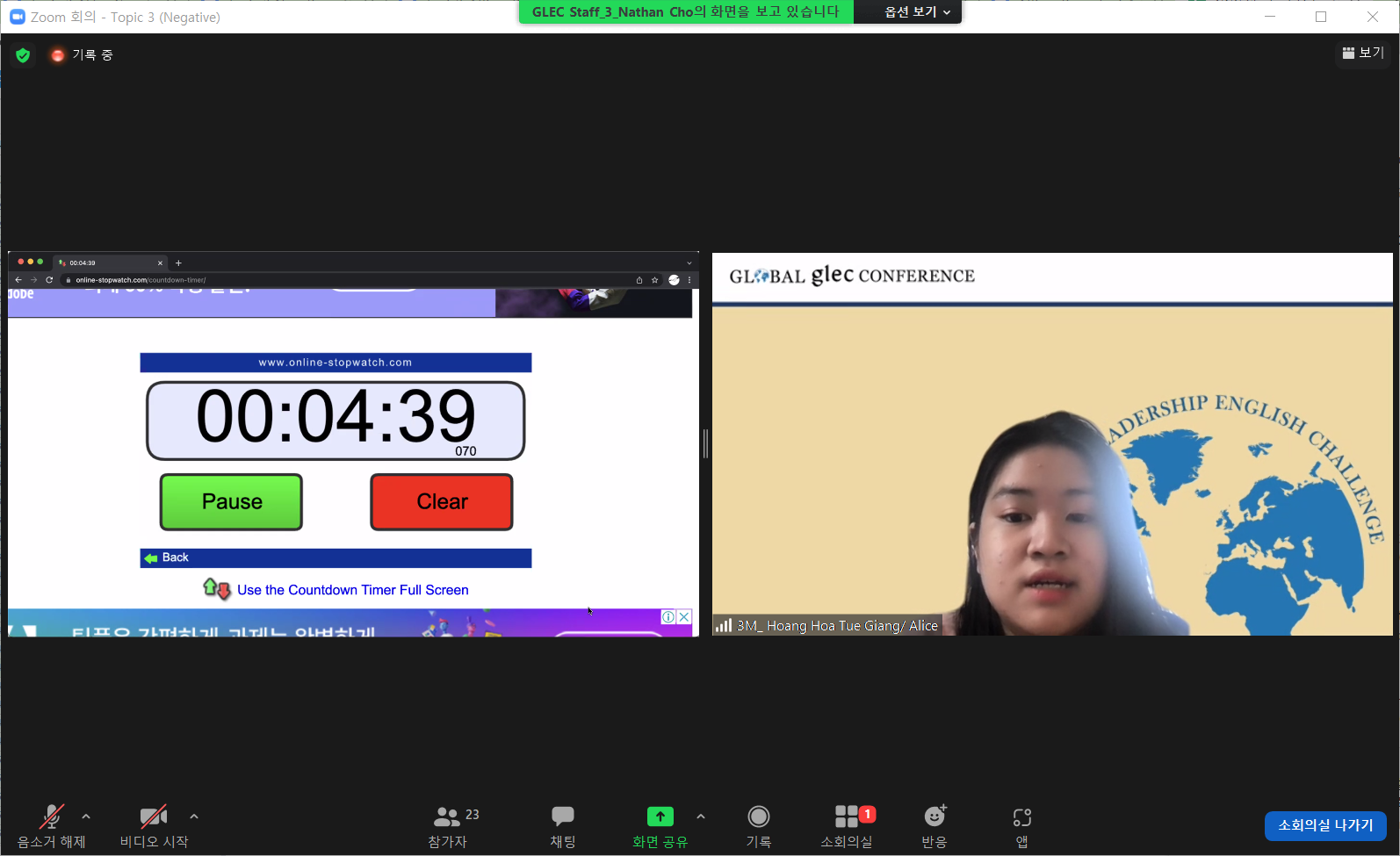 Also, for the afternoon sessions, Dr. Kenji Yokoyama, current Dean for External Relations in NUCB Business School, gave a youth-orientated lecture under the theme of 'Why is Youth Education Important?' Dr. Kenji, as an educational professional, focused on delivering the importance of learning and studying with regard to Maslow's Hierarchy of Needs. After the greatest Career Development Session, all students were divided into two tracks based on their age groups and participated in the SDGs Group Discussion aiming to reach a consensus on global issues: Covid-19 and Children's Rights, Fair Vaccine Distribution and Global Governance. To see the results of the resolution, please visit here.
The following sessions were Side Event conducted by the youth staff, the Ivy League session conducted by Chaerin Park, the past GLEC winner, and the International Admissions Session by NUCB International College.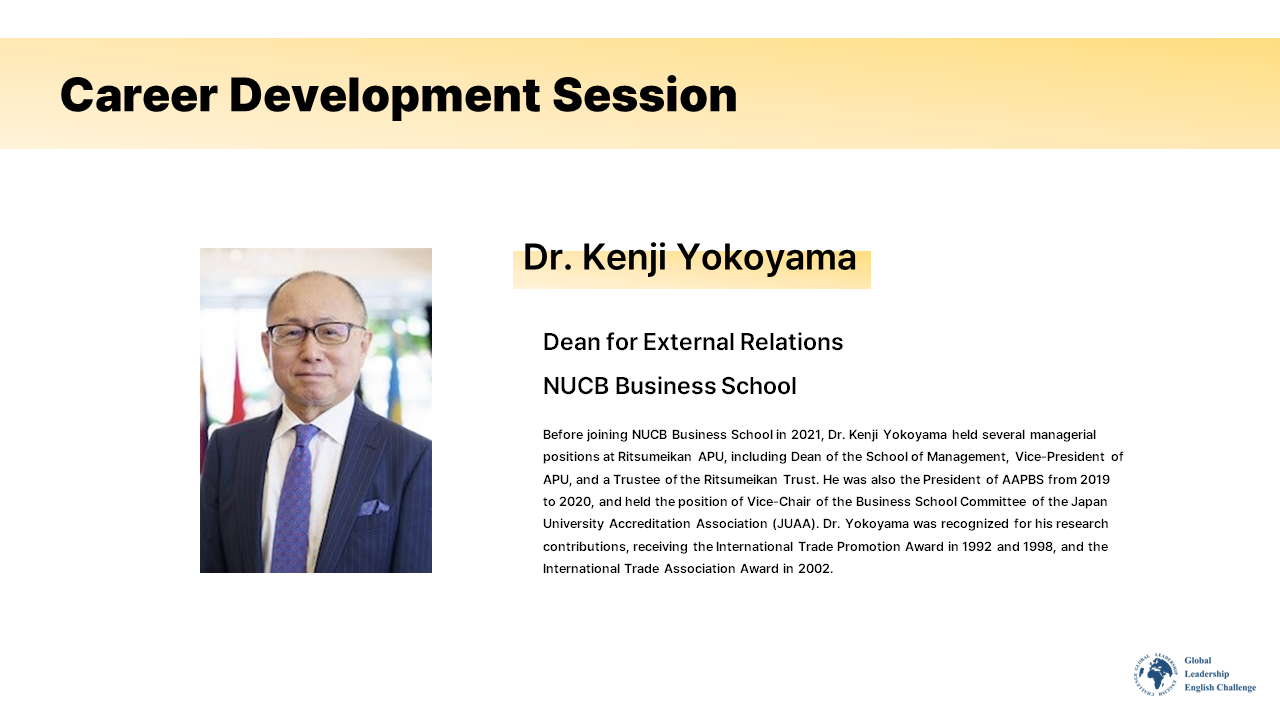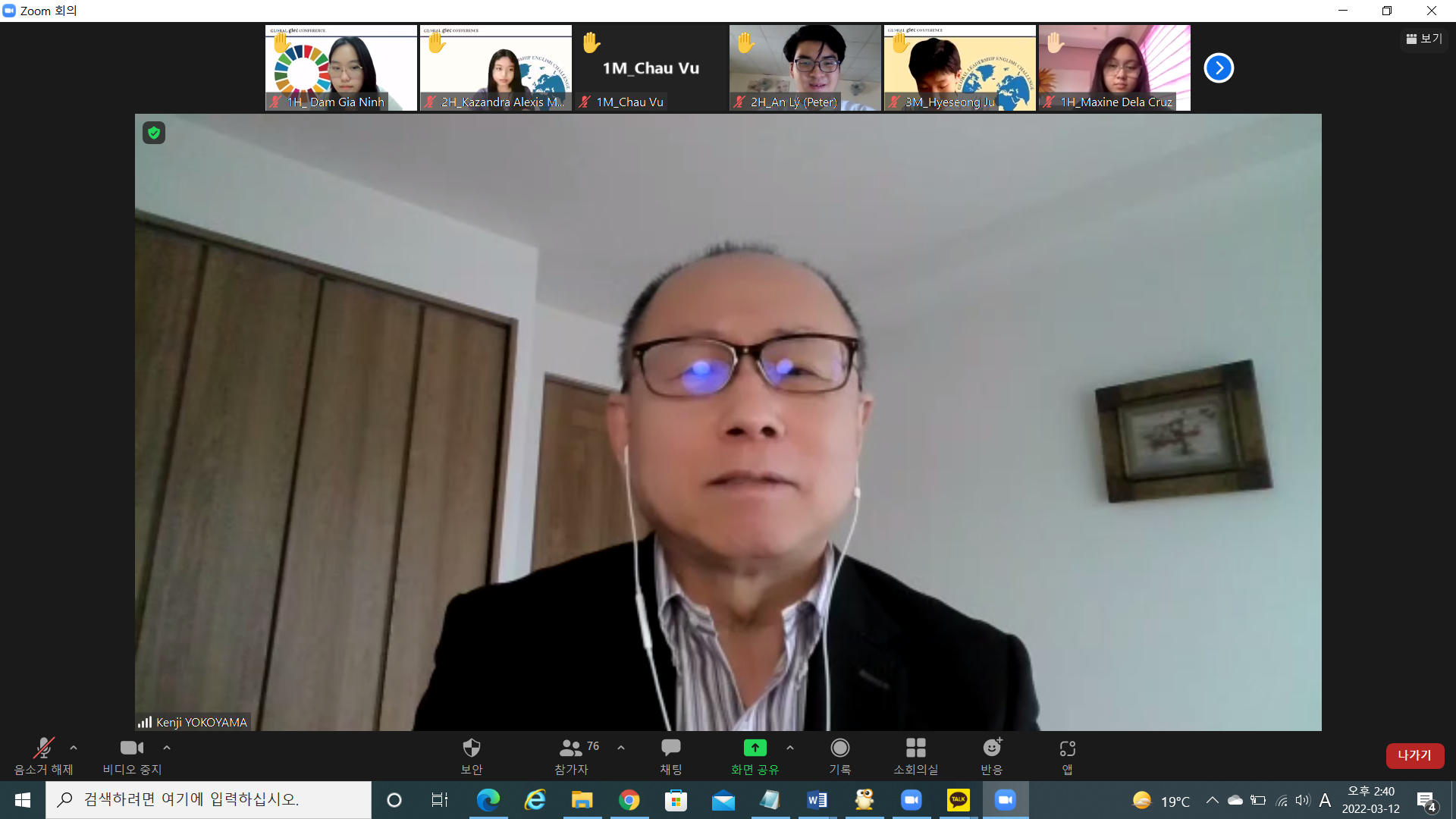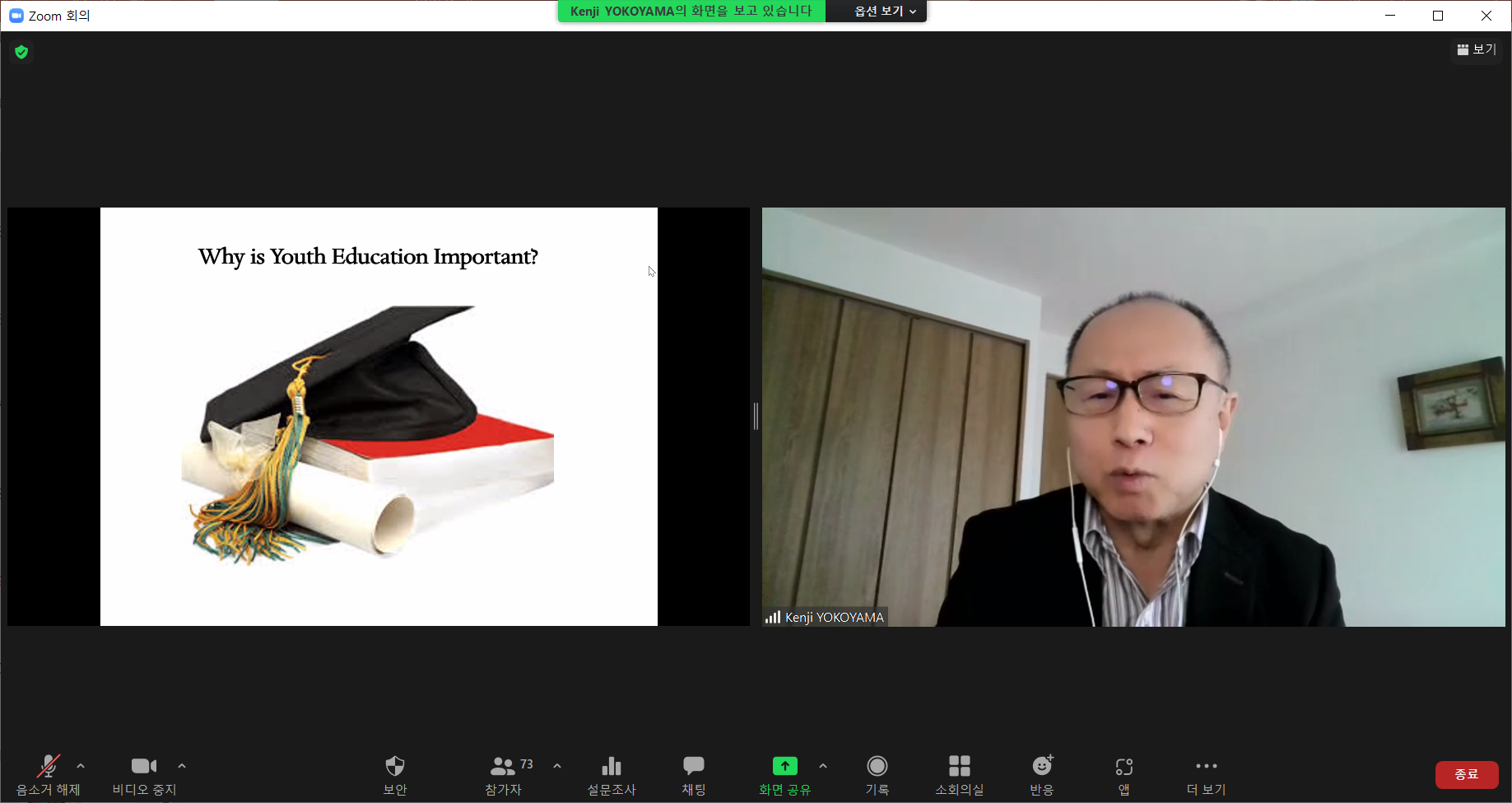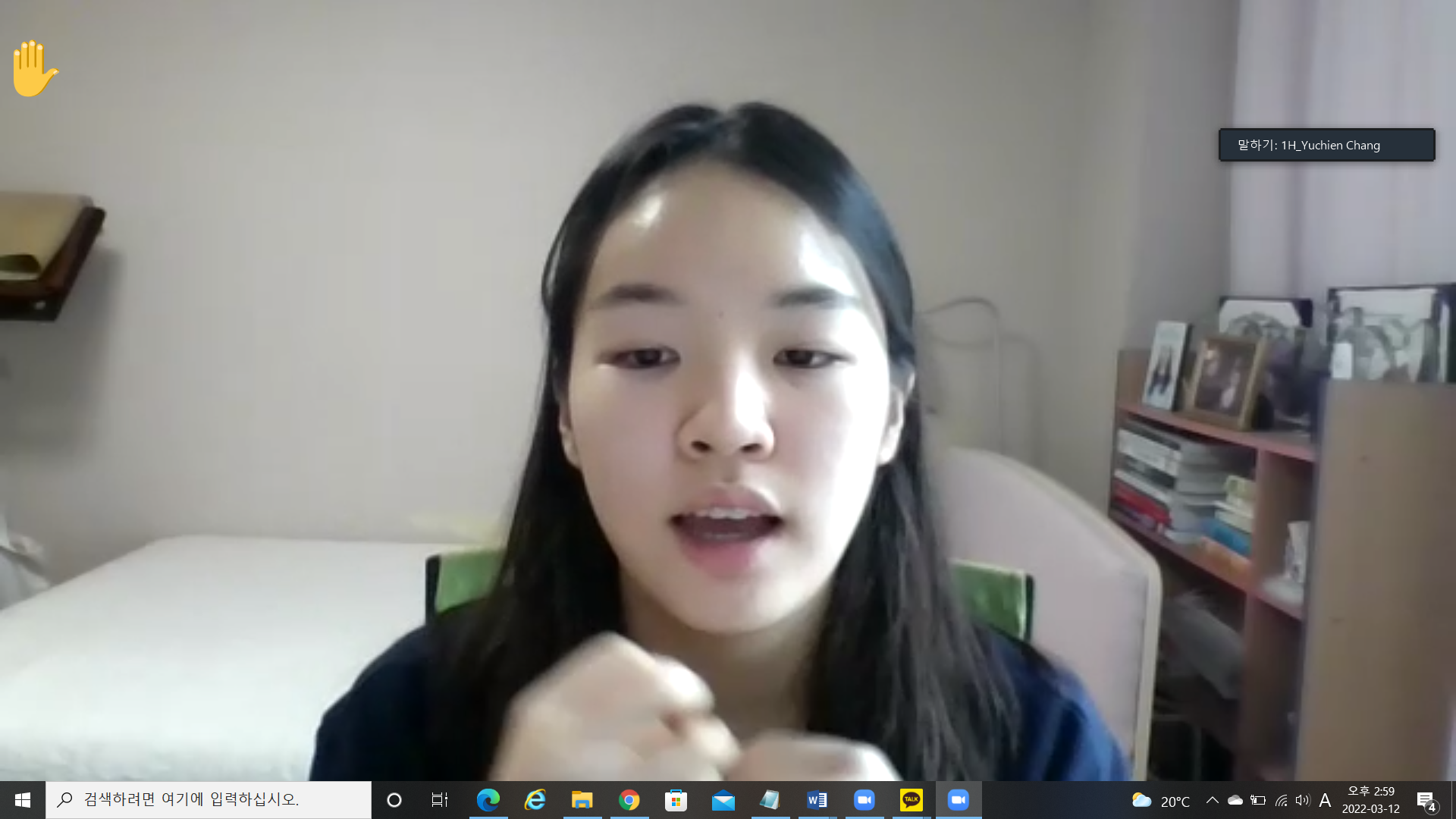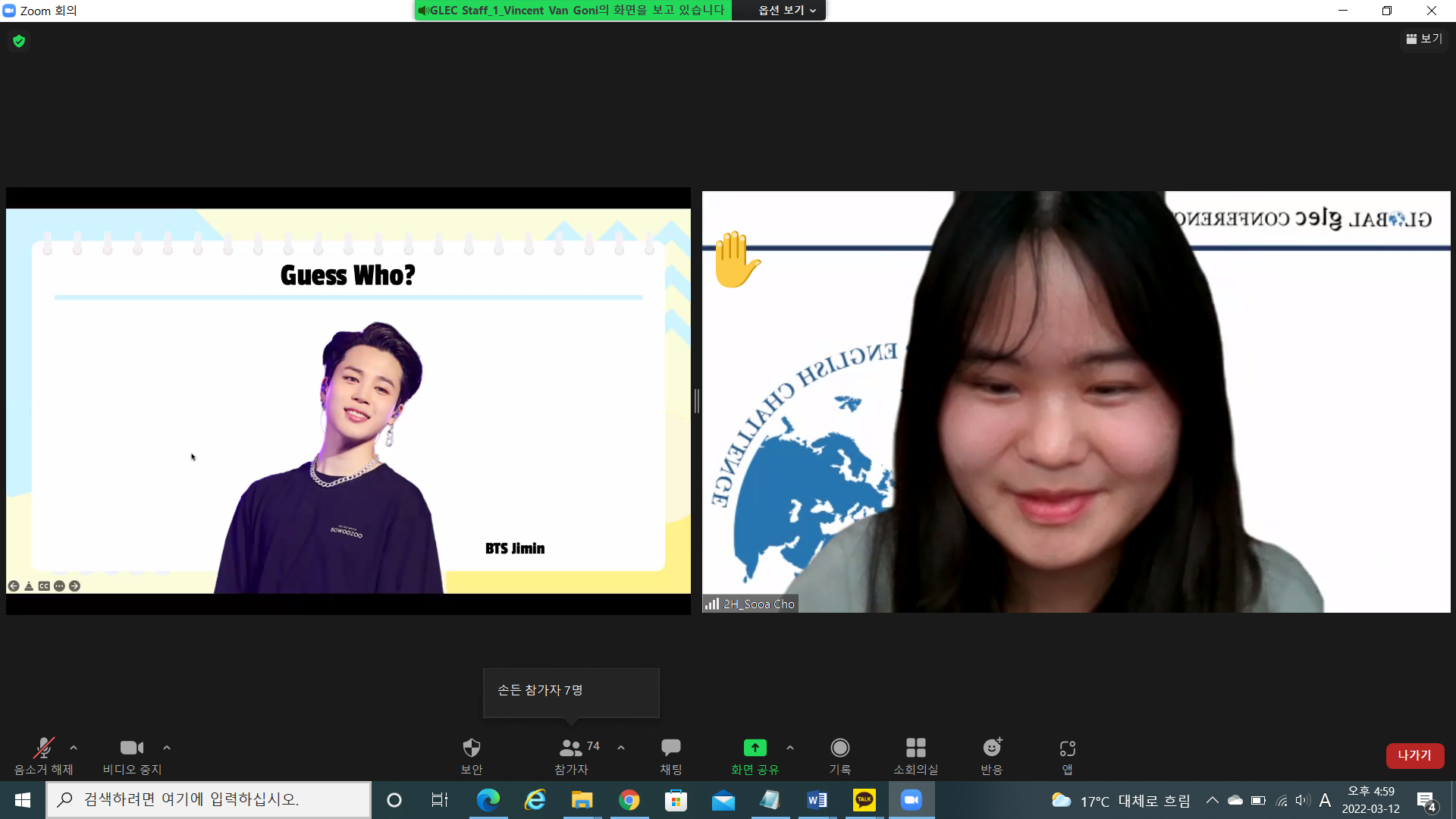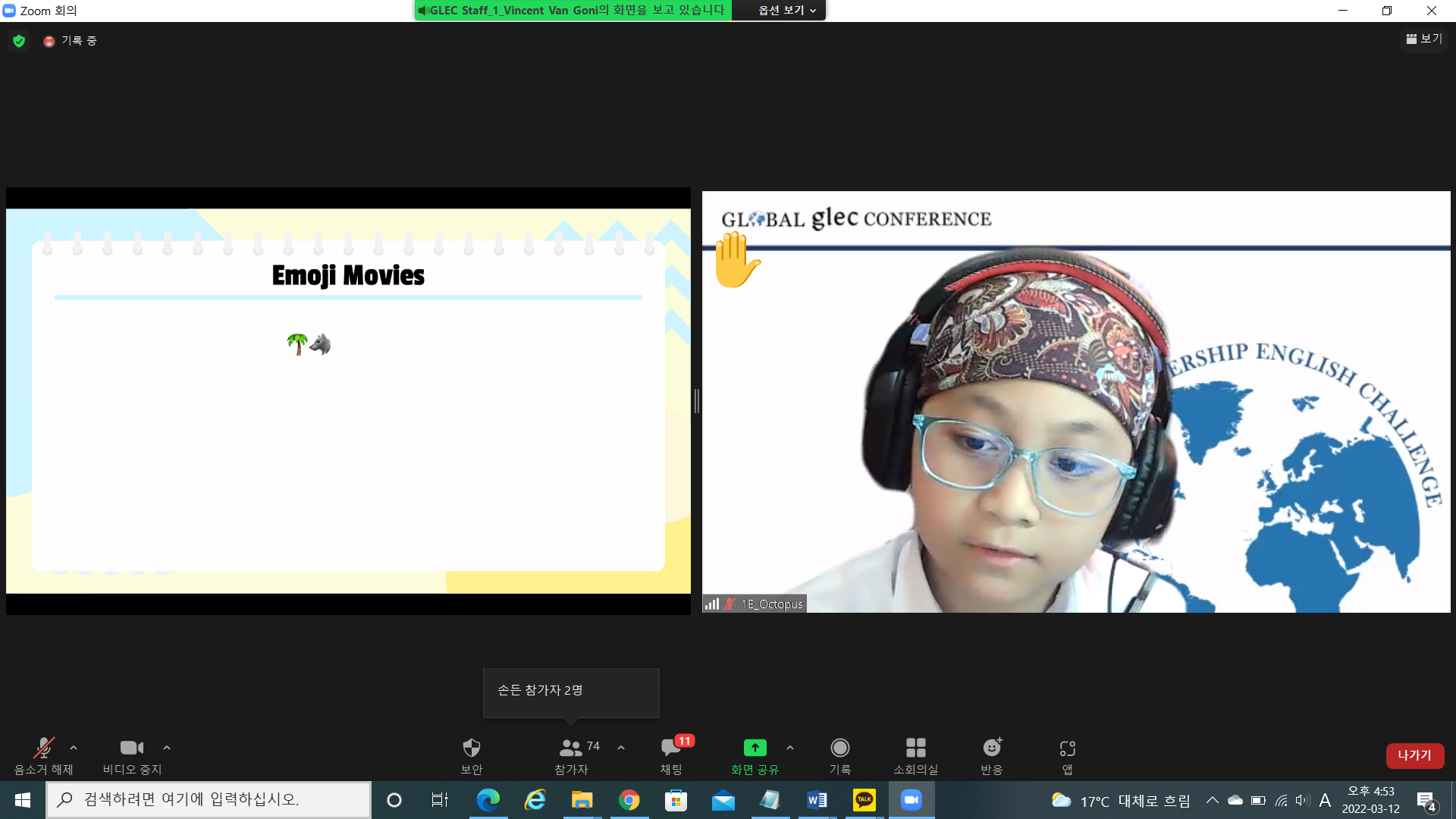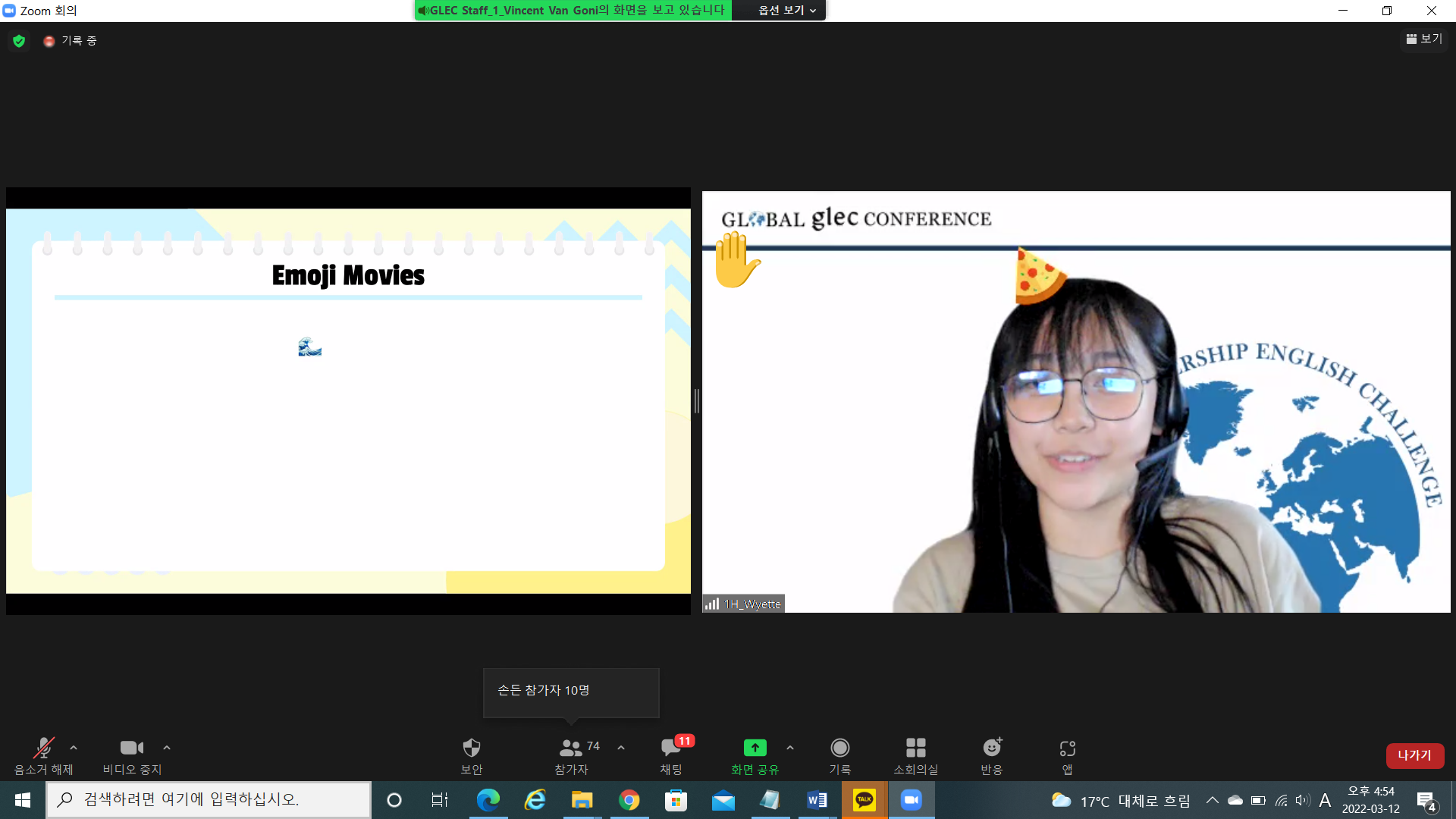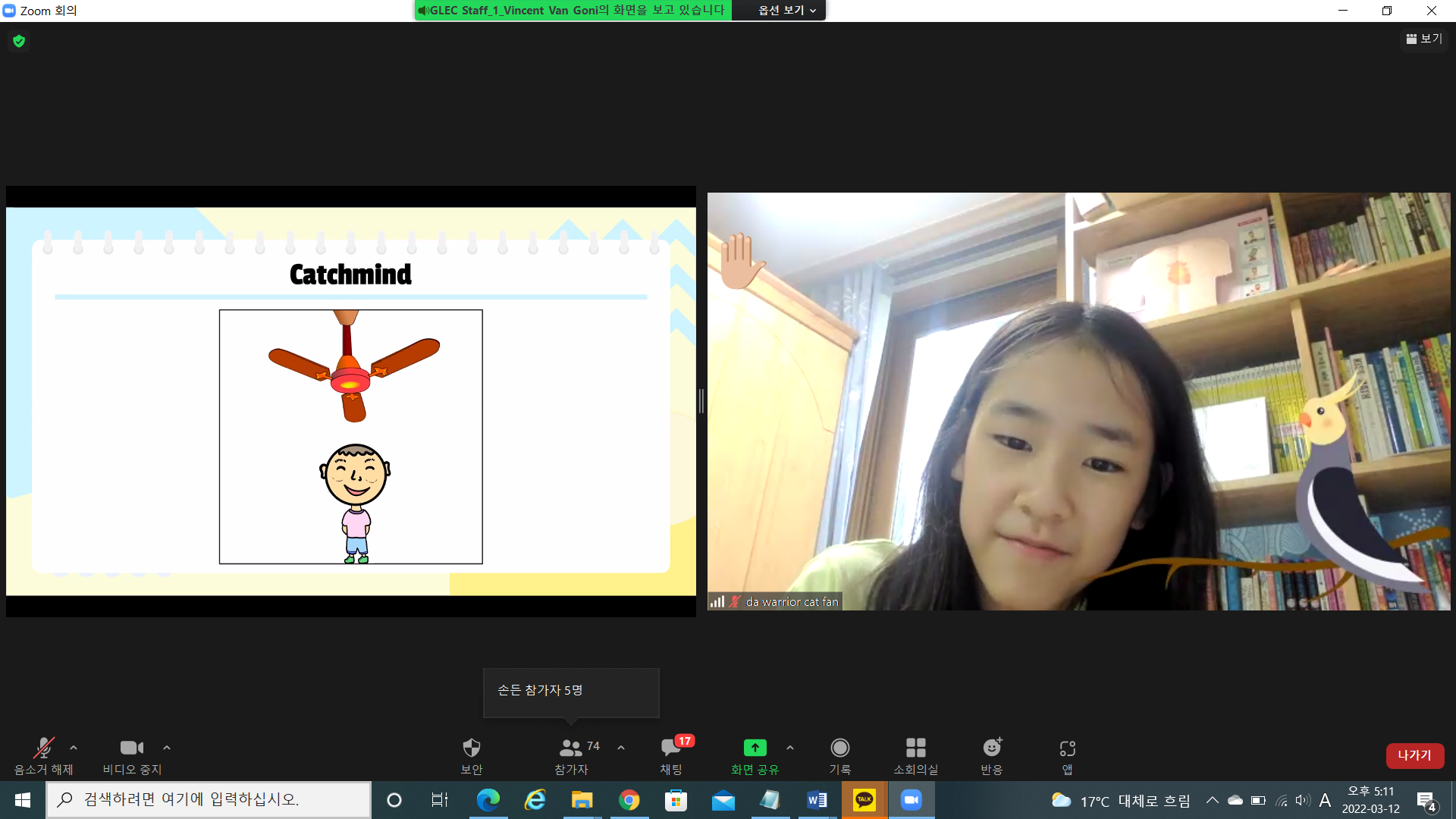 Day 3 (13 March)
On the last day of the conference, we have invited Dr. Kadir Jun Ayhan, the current assistant professor from Ewha Womans University, covering the significance of global cooperation for the post-Covid-era. During the briefings, all students joined the simulation on climate action as community leaders.
After the lecturing session, all students gathered and shared the resolutions on all Sustainable Development Goals mainly focusing on child rights and the current vaccine distribution issues.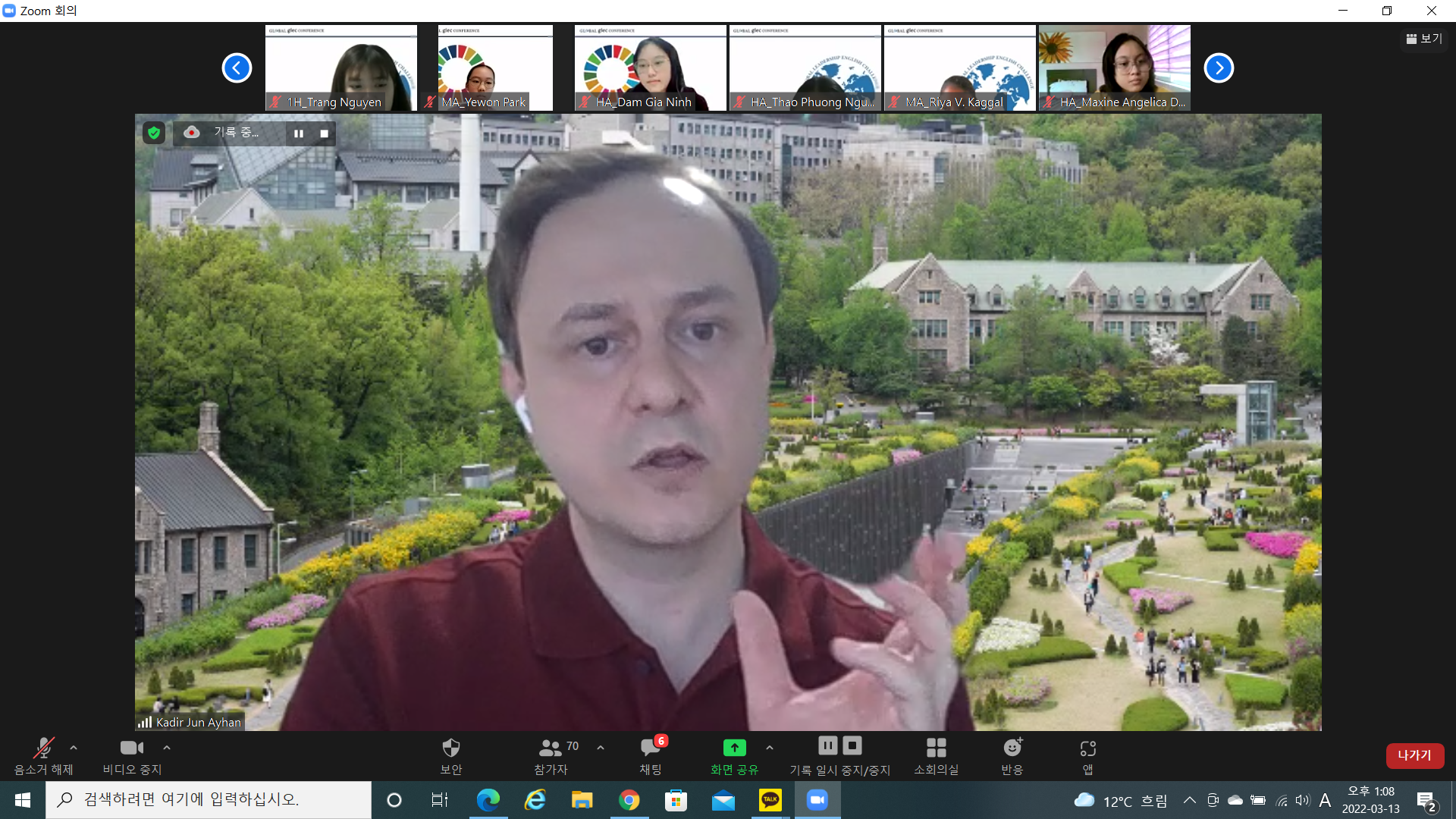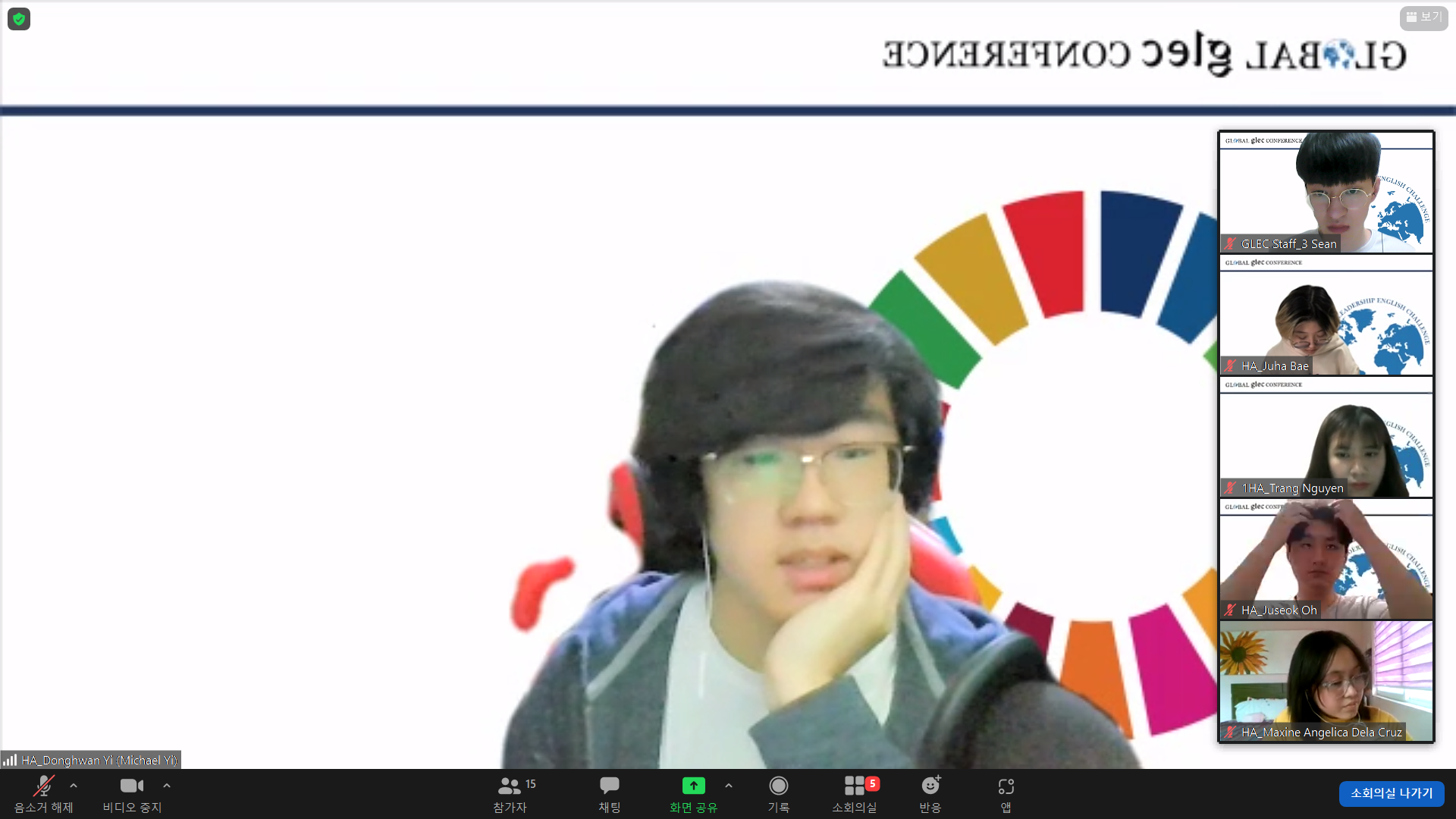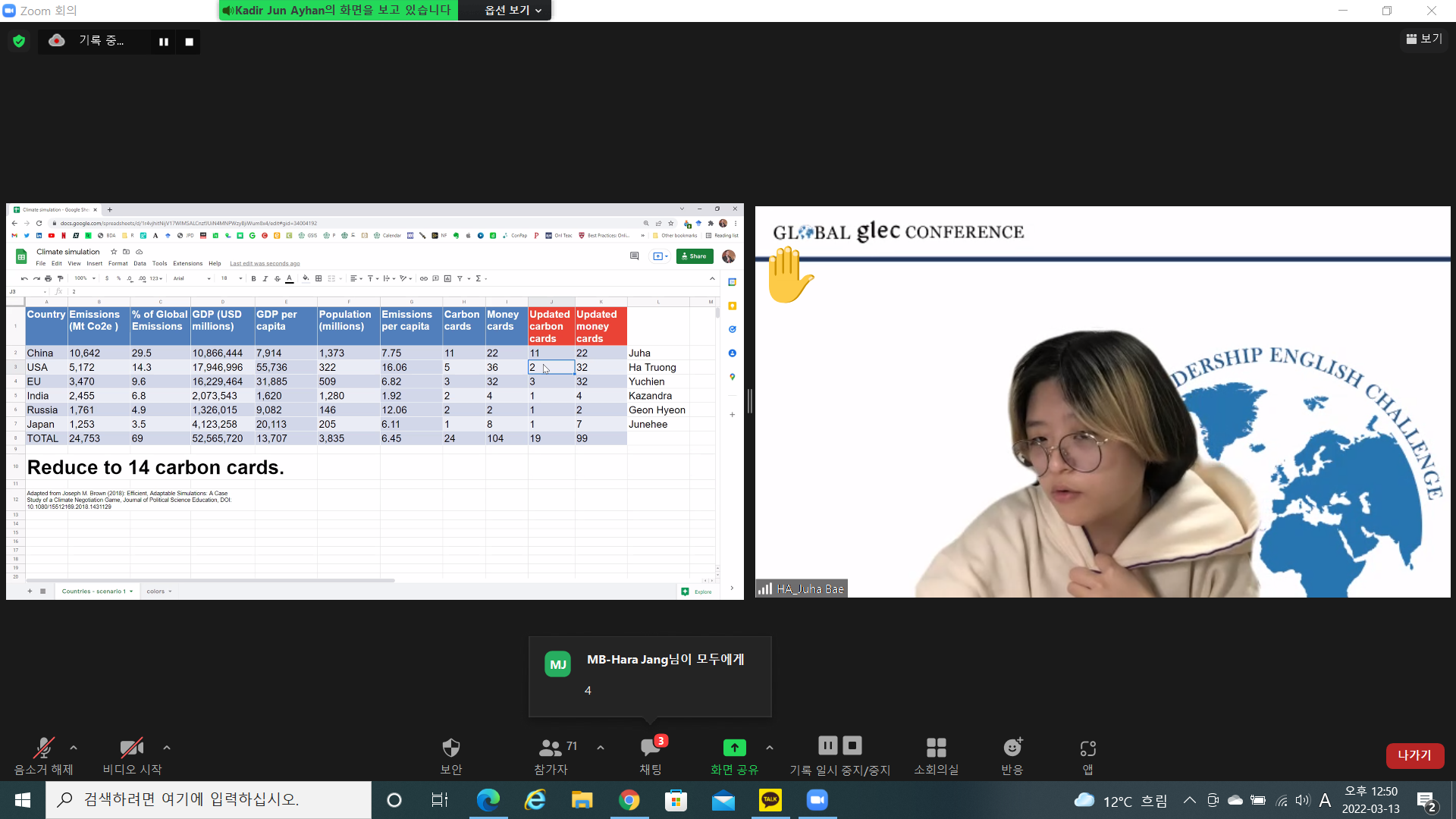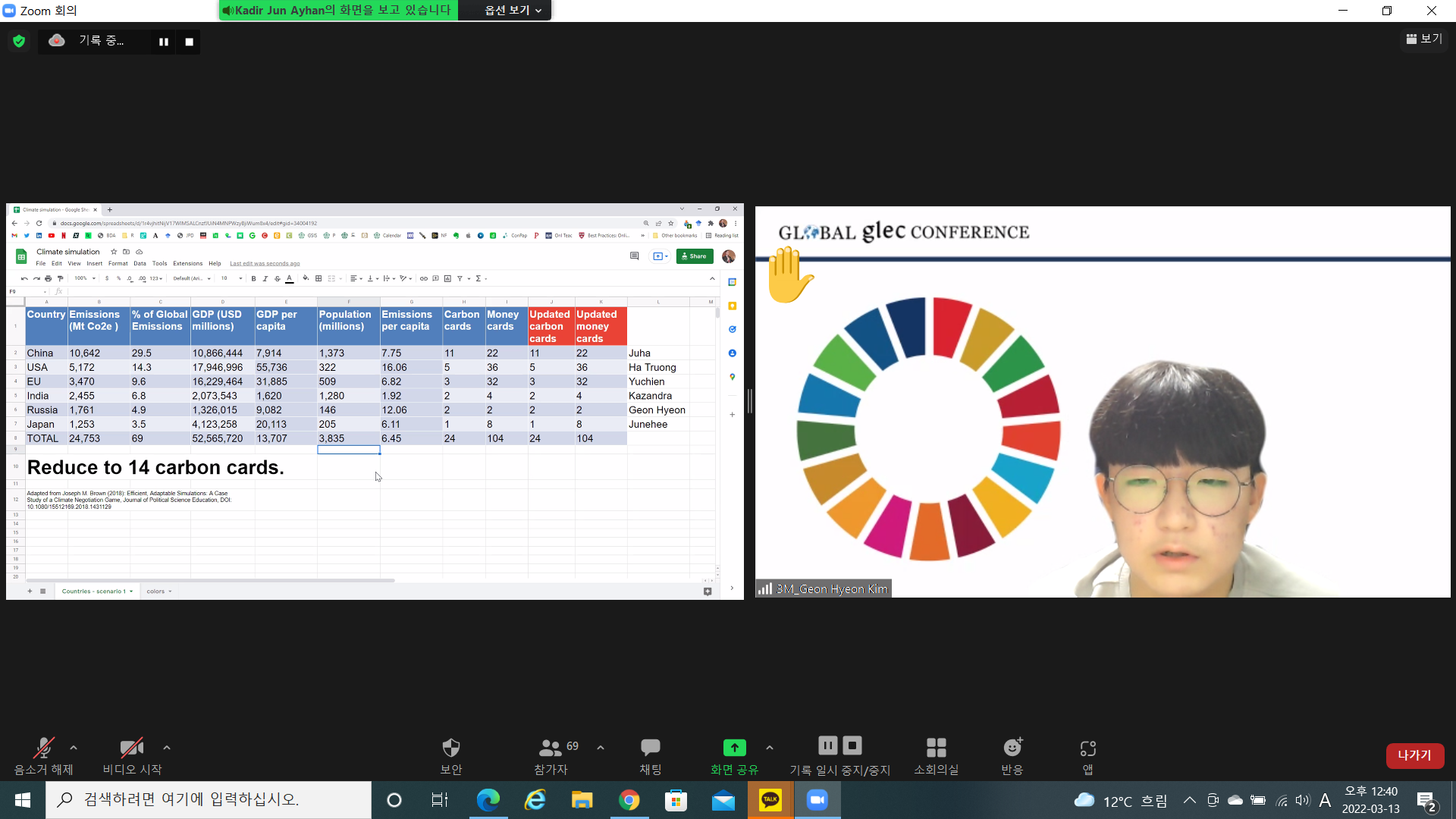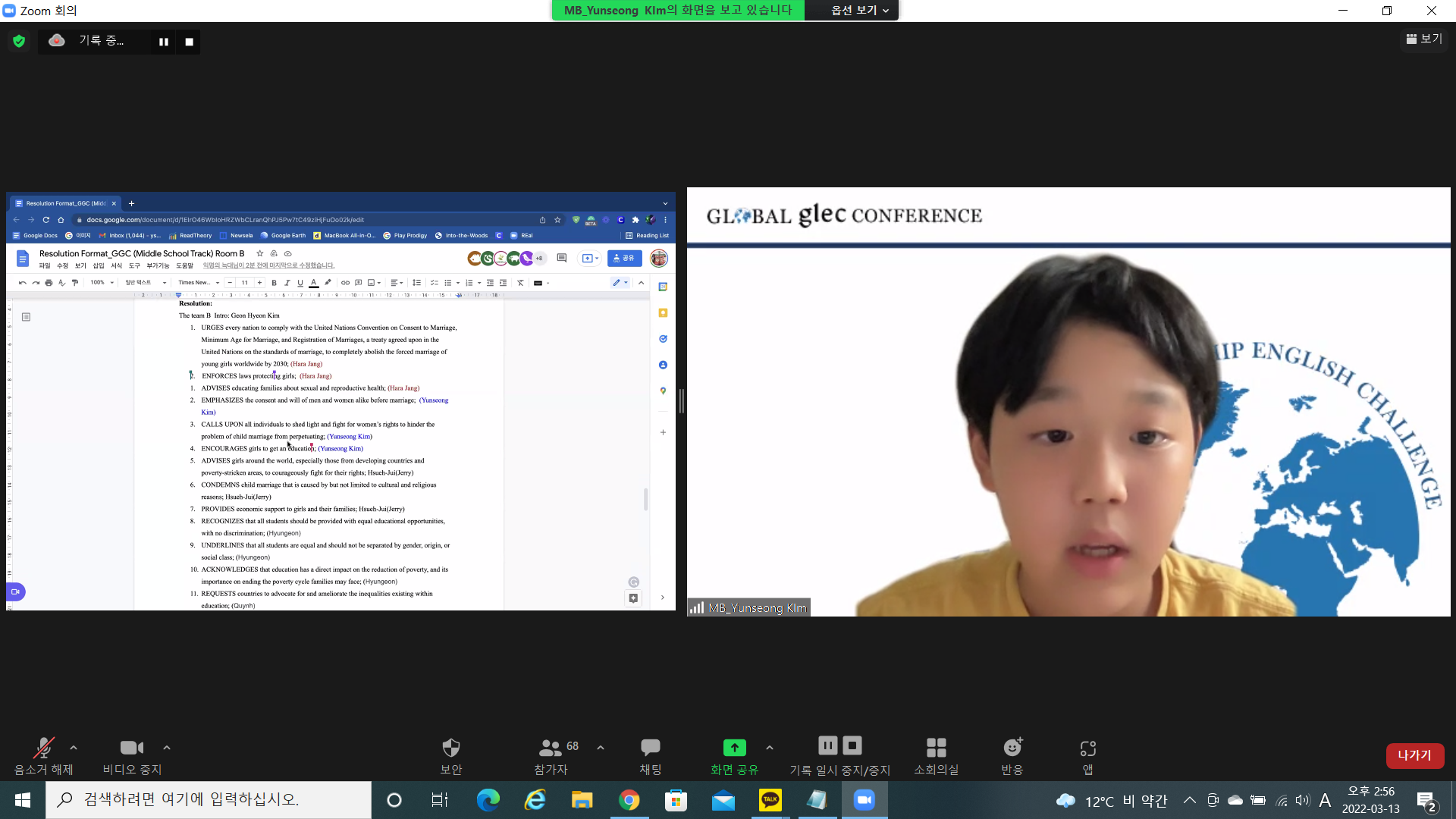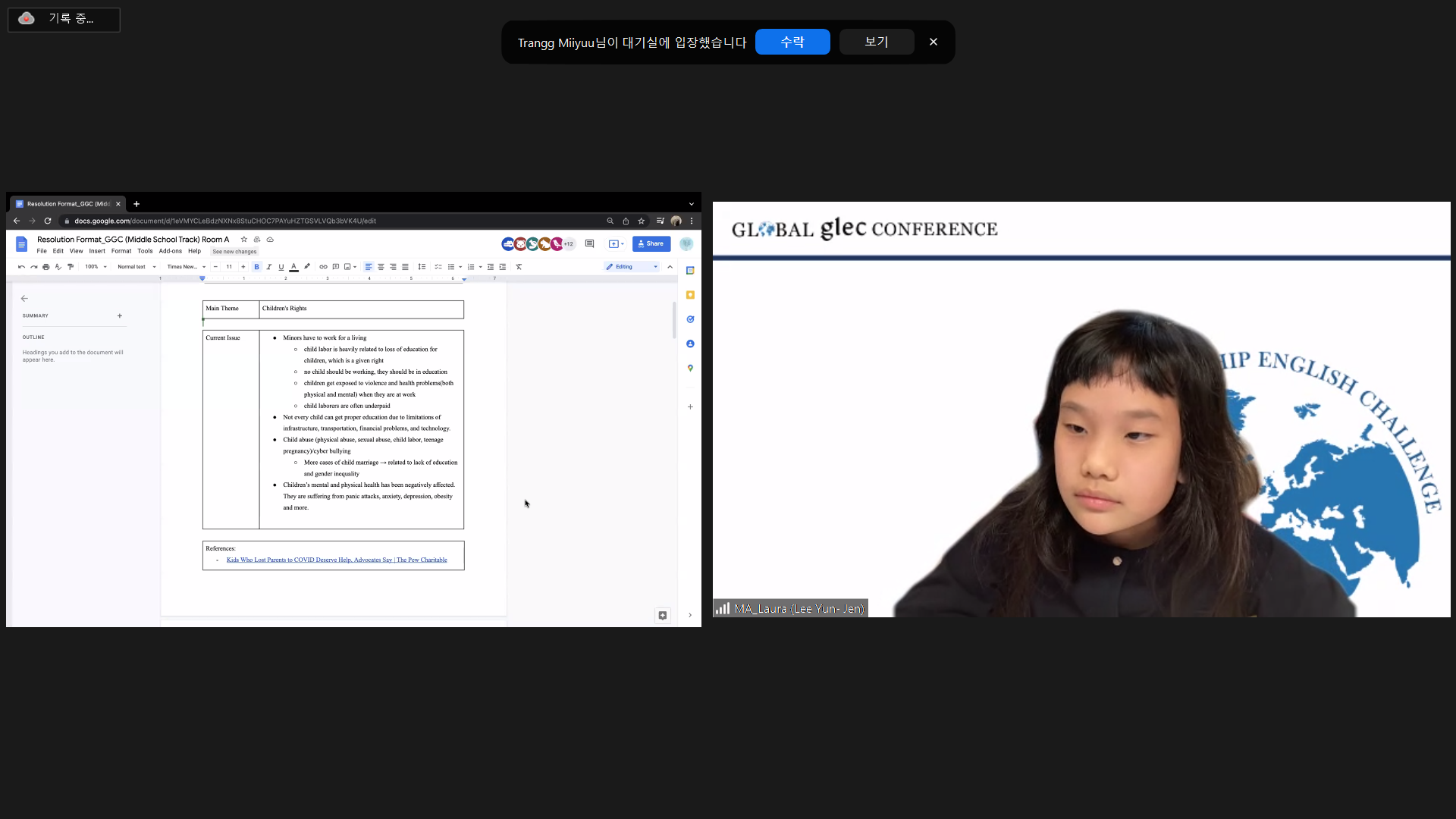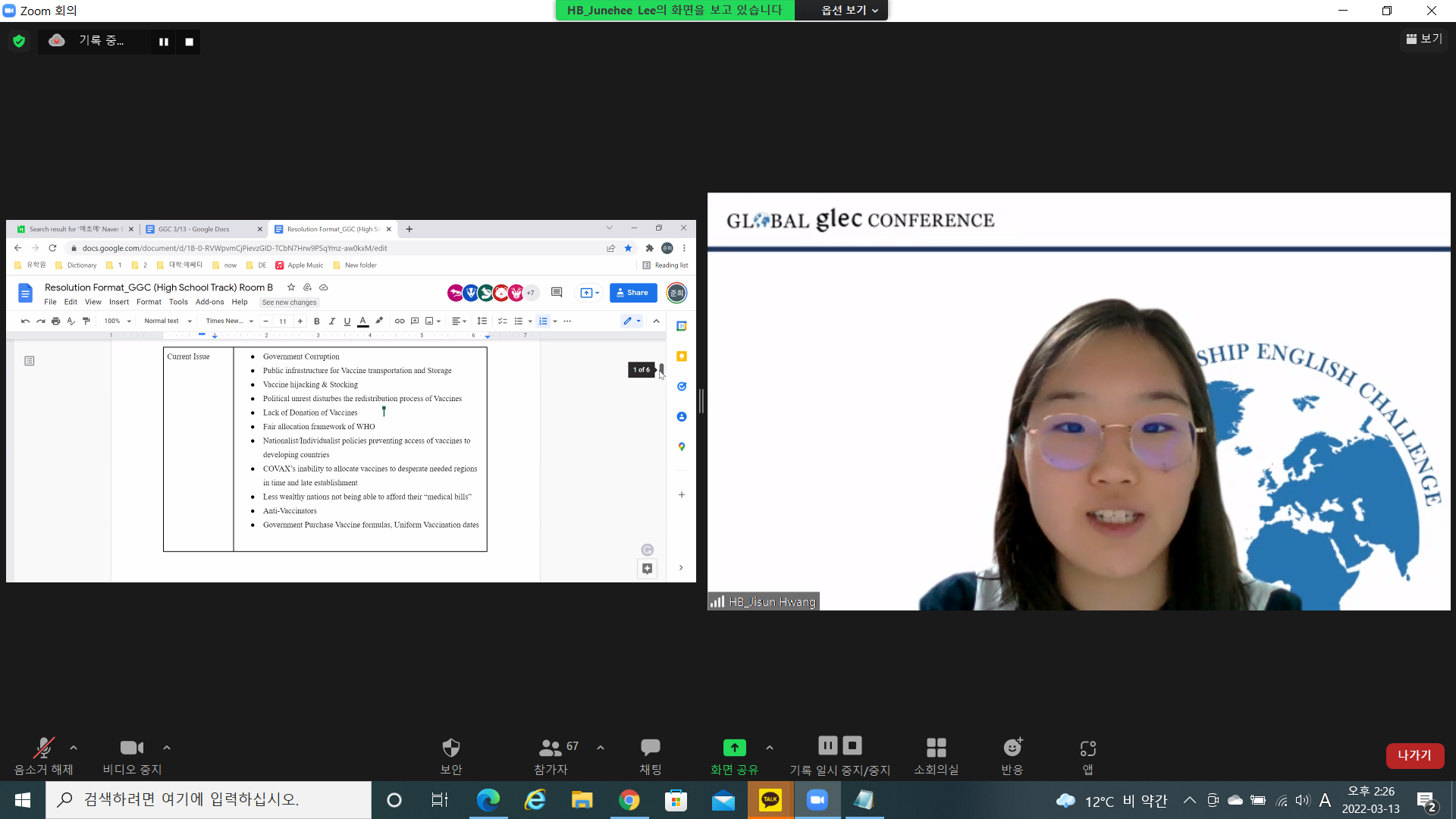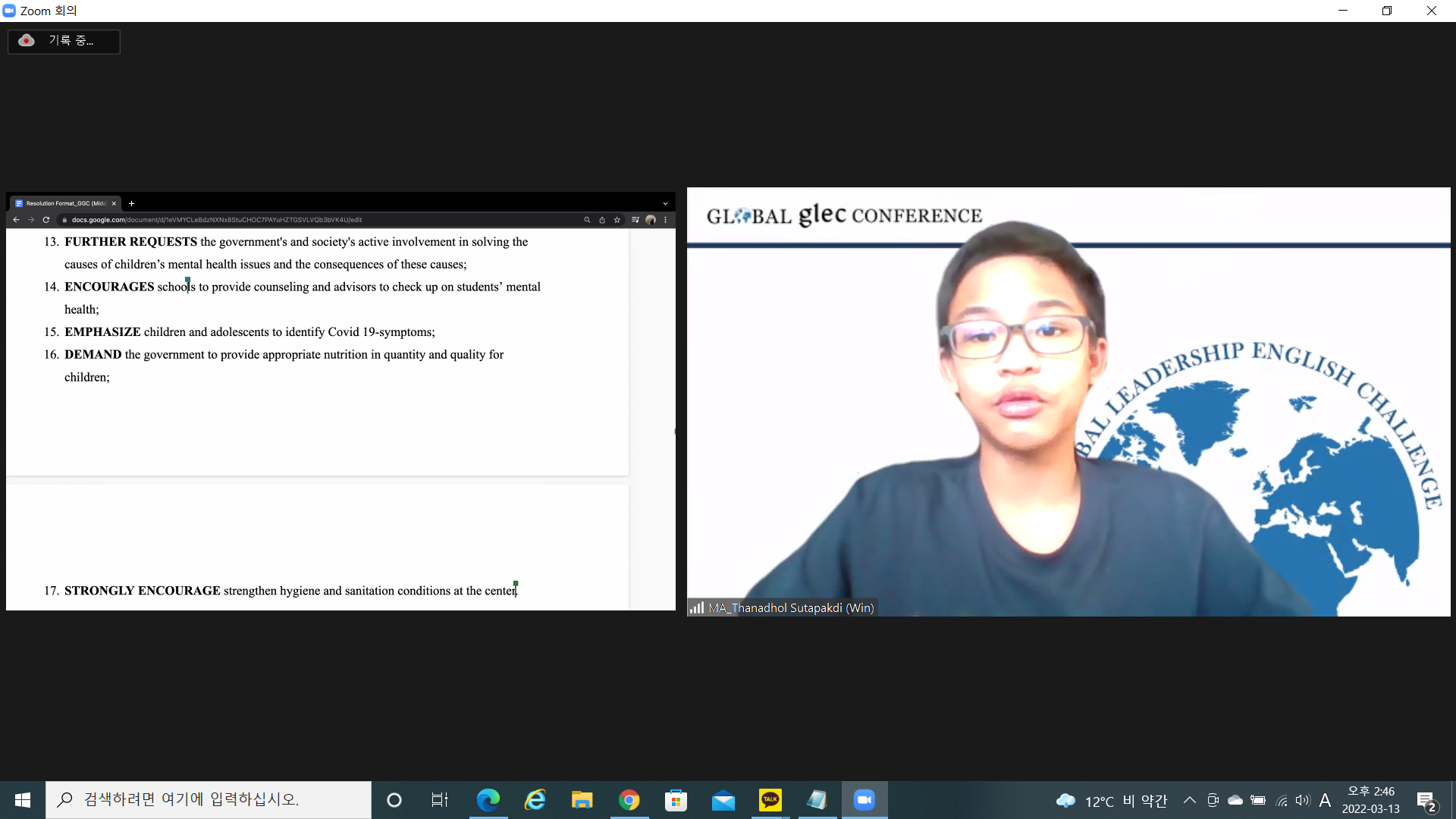 We would like to thank you so much to all those who have been cooperative, and especially to all participants, you made this possible!
Thank you and best regards,
GLEC Secretariat